Sports Tunnel
Watch the crowd go crazy as they see their favorite team take the field from a custom
inflatable sports tunnel
for sale by Sports Central Creations. These inflatable entrance tunnels bring style and flair to any sporting or special event you can imagine. Sports Central Creations is the industry leader in the design and manufacture of customized sports entrance tunnels, and each tunnel is backed by the company's 3-year warranty. That's one of the best in the business. Even better, every sports tunnel or other inflatable for sale is manufactured right here in the U.S.A.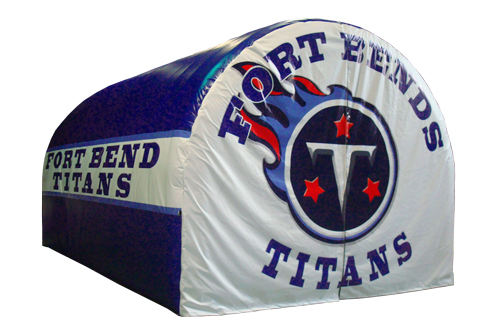 It all begins with a quote — simply contact the company and start the process of turning your team's dream into a reality. Sports Central Creations prides itself on its quick turnaround; they strive to respond to requests within 24 hours, even on weekends. It is this attention to detail and to customer satisfaction that has made the company an industry leader, with over 10 years of experience designing and building event inflatables. Customer satisfaction is also why clients keep returning to the company for new and updated products. Need a new team logo, or want to change your team's colors or other details. Sports Central Creations will be happy to assist you in creating a one-of-a-kind inflatable that will amaze attendees at your next big event.
Sports Central Creations constructs its team helmet tunnels and inflatable mascot tunnels from heavyweight 18 ounce commercial grade vinyl. This material comes in a myriad of colors and the finished product is durable for years of repeated use. Inflatables come with or without attached tunnels, and the tunnel length can be customized to suit your event venue.
Football helmet tunnels are not the only products Sports Central Creations can manufacture. They also make customized entrance tunnels for other sports like volleyball, soccer, and basketball. Have a gymnastic event coming up? How about a customized, colorful air mattress to add pizazz to the event? Arcade-style inflatables are another option — the possibilities are endless. Accessories such as storage bags, fog machines, and sporting equipment are also available from the company.
For your next event, a custom inflatable for sale from Sports Central Creations will dazzle the crowd as they watch their team emerge from the tunnel. Since such a wide variety of options are available, there's an inflatable option for every occasion. With the incredible customer service and manufacturing excellence of the company backing you and your order, you can't go wrong!