Run Through Tunnel
Prepare to be amazed as your team takes the field, coming out from a custom
run through tunnel
made by Sports Central Creations. The stunning visual impact and colorful materials will be a memorable experience by attendees at your next big event. Each custom entrance tunnel for sale is made precisely to your specifications by the experts at Sports Central Creations, an industry leader of inflatable tunnel manufacturers and one with experience spanning over 10 years. The custom inflatables for sale are made of durable materials for years of repeated use and are backed by a three-year warranty. Best of all, every product is manufactured by Sports Central Creations right here in the United States.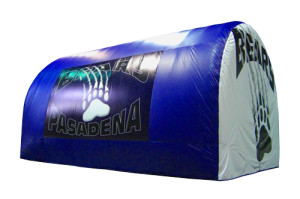 Each product begins with an idea. Sports Central can help make that idea come to life in vivid color. The football entrance tunnels and other products for sale are all manufactured from heavy vinyl, an 18-ounce commercial grade of the material. This material comes in a wide variety of colors to help match your team's colors perfectly. This material is extremely durable, too; the custom inflatables are tough enough for years of regular use at sporting events. Your business is important to the company, so they strive to respond to inquiries within 24 hours, even on weekends. That kind of customer service, coupled with their manufacturing expertise, means that you can be confident your custom inflatable will be an investment worth making. Sports Central Creations stands behind their work with a great warranty and product support. They have plenty of repeat customers, too; as team colors or logos change, new titling or text is needed, or if you simply want an updated tunnel, Sports Central is happy to help you construct a new product.
Football tunnels are not the only product Sports Central Creations manufactures. They also make team helmet tunnels, mascot tunnels, and arcade-style inflatables. The helmet and mascot inflatables come with or without an attached tunnel, and the tunnel length can be specified to suit your sporting arena or event venue. Sports Central also makes products for other sports like baseball, soccer, and gymnastics, and offers a myriad of accessories to add visual punch to your team's presentation. Imagine a fog machine for extra impact, or simply choose from storage bags, air blowers, and sporting equipment. The possibilities are truly endless and are limited only by your imagination.
Make your next event a stunning visual success with a custom inflatable by the masters at Sports Central Creations. These fully customized, colorful, and durable products are perfect for your next big sporting event.
football entrance tunnel, inflatable tunnel, inflatable tunnel manufacturers, custom entrance tunnel