Inflatable Football Helmet
Picture this: at your next sporting event, your team taking the field from a colorful
inflatable football helmet
created by industry leader Sports Central Creations. Sound like a fantasy? It's not — the company can bring your ideas to life with a custom football entrance tunnel or other inflatable product designed just the way you specify. Sports Central Creations has over 10 years of experience manufacturing one-of-a-kind, fully customized inflatables for sale for sporting and special events. Your imagination is the only limit; Sports Central has the expertise to make your next event a real show-stopper. Each product is backed by a three-year warranty and is proudly manufactured right here in the United States.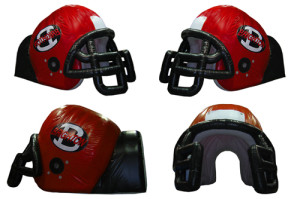 Sports Central Creations is the leader among inflatable tunnel manufacturers. Each product is made using heavyweight vinyl, an 18-ounce commercial grade of the material. The inflatables for sale are incredibly durable and will last for years of regular use. The material comes in a wide array of colors to fit your team's look or other design needs. The inflatable structures are easy to transport and easy to set up and will provide a lasting visual impact on any big event. It all starts with your design idea — simply contact the company to get a quote and begin the process of making your sketch a reality. Sports Central Creations takes pride in its quick response to inquiries; they are generally addressed within 24 hours, even on weekends. How is that for commitment? This quick response, coupled with the company's expertise in manufacturing custom football run through tunnels and other inflatable products for sale, means customers are satisfied every step of the way. Many customers have returned again and again to Sports Central Creations for new inflatables. As team colors and logos change or new products are needed for special events, the company is happy to tackle these design challenges.
Want something other than an inflatable sports entrance tunnel? Sports Central Creations can help you with that. In addition to tunnels, they also manufacture inflatable helmets and mascots with or without attached tunnels. They also make inflatable products for other sports, including basketball, soccer, and gymnastics. The company offers a wide range of accessories to go with your custom inflatable, too — products like storage bags, fog machines, and air blowers. They even make arcade-style sports inflatables for civic and special events! The possibilities are endless when you choose a custom product from Sports Central Creations, and these inflatables offer the crowd a memorable visual appeal that can't be beaten.