Inflatable Sports Tunnel
Make your next game a rousing hit with the crowd with an
inflatable sports tunnel
for sale from Sports Central Creations. These custom inflatables are a sure way to give your event a major visual impact, and Sports Central Creations offers the best manufacturing in the industry. Each custom football tunnel for sale is tailor-made to your specifications; you're only limited by your imagination. Even better, every custom product is manufactured right here in the United States from quality materials and an attention to detail you will appreciate.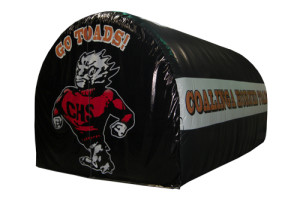 Sports Central Creations takes your idea and brings it to life in vivid color. Each inflatable entrance tunnel for sale is crafted from heavy 18-ounce vinyl. This commercial-grade material ensures that your custom inflatable lasts for years of repeated use. The vinyl used comes in a multitude of colors and can be matched to your team colors by the experts at Sports Central Creations. The process begins with an inquiry, and Sports Central prides itself on its quick response: inquiries are generally responded to within 24 hours, even on weekends. This quick response, coupled with the excellent manufacturing capabilities of the company, means your custom football tunnel or other inflatable product will meet your every expectation. Each custom product for sale is backed by a three-year warranty and the quality construction of a company who has been the industry leader for over 10 years. Customers keep coming back for more, too; Sports Central Creations will be happy to take on new projects if your team changes logos or colors.
Football helmet tunnels, not your thing? Sports Central also manufactures a variety of other custom inflatables. Another popular choice is an inflatable mascot tunnel. The helmets and mascots can be specified with or without a tunnel, and the tunnel itself can be varying lengths to suit your venue or arena. But that's not all — Sports Central Creations also makes custom inflatables for soccer, baseball, basketball, and more. They also craft arcade-style inflatables for outdoor and civic events. A myriad of accessories is also available, from storage bags to fog machines to air blowers. The inflatables can be stored or transported easily and set up in minutes.
For your next big event, have your team take the field from a tunnel created just for you by Sports Central Creations. These colorful inflatables make a dramatic impact to any sporting event and will last for years of enjoyment. With a custom inflatable made by the industry's best, you simply cannot go wrong.