Football Helmet Tunnels
INFLATABLE FOOTBALL HELMET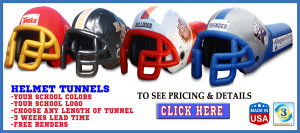 Sports Central Creations is a top of the line inflatable manufacturer, offering the highest quality line of commercial entrance tunnels and inflatable football helmets for sale. Whether you are making a purchase for the first time, or are simply upgrading your current inflatable entrance tunnel, Sports Central Creations has the selection of commercial inflatable football helmet tunnels for sale to fit your need.
All of our inflatables for sale are listed with accompanying product information. Each of our inflatables for sale come with a three year warranty, so that when you buy sports inflatable products from Sports Central Creations you can be rest assured that your commercial inflatable entrance tunnel will be the best on the market. Each and every one of our inflatable team tunnels for sale also pass rigorous safety testing. Sports Central Creations is one of the best known inflatable manufacturers in USA, offering commercial inflatables for sale since 2004.
When you purchase inflatable football helmet tunnels from Sports Central Creations you can know that your inflatable tunnel sale will be the top of the line. We stand by each and every sale, and our customers come back time and time again for our commercial inflatable sports games and to upgrade their current inflatable sports tunnels. Our commitment to our customers has made Sports Central Creations stand out as an industry leader inflatable manufacturer. Strong Arm recording artist FloRida purchased an inflatable helmet tunnel for his Florida Youth Football League, the famous FYFL. At Sports Central Creations we go beyond the entrance tunnel and inflatable football helmet sales, we provide our customers with the knowledge and tools to understand what to look for and what to compare when shopping for inflatable sports tunnels, inflatable games or inflatable football helmet tunnels. This, and more, has given Sports Central Creations the reputation as the top inflatable manufacturer in the United States, proudly making 100% of our products here in the USA. Next time you are looking to buy an inflatable sports game, inflatable entrance tunnel or inflatable football helmet or any inflatable for sale, look no further than Sports Central Creations to provide you with the high quality line of commercial inflatables at affordable prices.