Inflatable Tunnels
Sports Central Creations specializes in the manufacture of
inflatable tunnels
for sports or special events. Just imagine the reaction attendees will have when they see their favorite team coming onto the field from a custom-designed, colorful sports helmet tunnel. The company offers the best manufacturing in the business, and every tunnel is made in the United States.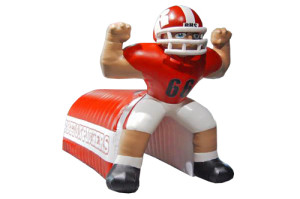 Each custom inflatable tunnel starts out as a dream, or at least a sketch on a piece of paper. Sports Central Creations makes those dreams a reality. Choose from a variety of colors of heavyweight 18 ounce commercial vinyl, the material every inflatable is made from by the company. Add your custom team logos, titling, text, mascot artwork, or whatever strikes your fancy, and in short order, you'll have a one-of-a-kind custom inflatable tunnel your team and fans will be proud of. Sports Central Creations prides itself in its quick turnaround for quotes; inquiries are generally responded to within 24 hours, even on weekends. It is this stellar customer service and commitment to quality that means customers come back for more. If you ever need to update your team's logo or mascot, change colors, add text or update the artwork, Sports Central Creations will be happy to manufacture a new football tunnel or other inflatable to reflect those changes.
The inflatable helmets made by Sports Central Creations come with or without a tunnel. Tunnels can be customized for length to suit your field or event needs. Watching your team come out of one of these custom inflatable tunnels is a sight to behold, and the crowd will go wild! The tunnels are durable and will last through years of use — and they're backed by a 3-year warranty, one of the very best in the business!
Football not your thing? Sports Central Creations can provide you with inflatables for other sports like volleyball, baseball, or basketball. Team mascots can be transformed into giant inflatable characters that will dazzle the crowd. There are even arcade-style inflatables, all customizable to your needs. Accessories such as air blowers, fog machines, or sporting equipment are also available. The possibilities are endless with a custom sports inflatable by Sports Central Creations. These inflatables are a real show-stopper, and fans will appreciate the dramatic impact they add to any sporting event. Start the process now and get a customized, colorful inflatable for your next big event — Sports Central Creations can help make your dreams a reality with their manufacturing expertise.